The Bharatiya Janta Party (BJP) has called for a 12-hour bandh in West Bengal on Wednesday, September 26, to protest the death of two students during a demonstration over the appointment of school teachers in Islampur area in North Dinajpur district.
Clashes broke out between TMC and BJP supporters in West Midnapore, West Burdwan, South Dinajpur and North Dinajpur districts when rallies taken out by the BJP in support of the bandh came face to face with processions taken out by the TMC denouncing it.
The Trinamool Congress government has vowed to take stern action against those trying to enforce the bandh, while the  BJP warned of "repercussions" if the ruling party attempted to interfere. To ensure normalcy, the Trinamool Congress government has set up control rooms and as many as 4,000 police personnel on the streets and has assured to provide protection to everyone who will be out. It also said, vehicles, if damaged would be compensated by the government.
Police turned mute spectator in Malda in West Bengal.This is how TMC supporters were seen beating BJP suppprters who were taking out rally during 12 hour Bengal bandh.#ReporterDiary by @ManogyaLoiwalhttps://t.co/FAHzdjSiWA … pic.twitter.com/Ld58YTNuw9

— India Today (@IndiaToday) September 26, 2018
Passengers of C7 route bus stabbed, bus set on fire
Passengers of the C7 route bus at Howrah station were also stabbed by two people who later set the bus on fire. Along with the bus, three cars were set on fire as well. It is reported that the police is trying to catch hold of the miscreants.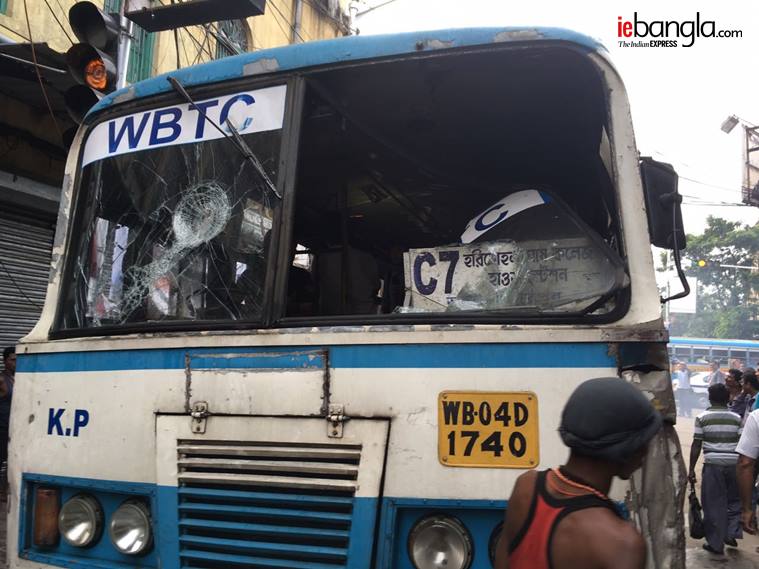 image source- Indian Express 
Bengal Bandh: Strike supporters have set atleast four government buses on fire in Islampur. Watch this #ReporterDiary by @iindrojithttps://t.co/FAHzdjSiWA … pic.twitter.com/wSElP9rp3o

— India Today (@IndiaToday) September 26, 2018
Protestors caused havoc by disrupting train services. Clashes erupted earlier between TMC and BJP workers when the latter were trying to obstruct railway lines.
12-hour BJP bandh in West Bengal, train services affected for 5-10 minutes https://t.co/rvhYhhkEBs via @TOICitiesNews

— Times of India (@timesofindia) September 26, 2018
Helpline numbers issued by South Eastern Railway
Following the directions of the high court to normalise conditions in the state, a press release was issued by the South Eastern Railway consisting numbers of SE Railway headquarters, Kharagpur division and Adra division, which is being circulated through electronic media.
image source: South Eastern Railway (press release)
Edited by- Disha Jana