27 September, 2018
SRK gets candid.
Shah Rukh Khan, even though his King of Romance title has come to be contested of late, is unanimously called one of the wittiest people in Bollywood. Not only that, he speaks with ease, intelligence and elan.
Recently, he spoke about some issues that are crucially relevant in Bollywood of today. His subjects included gender gap in Bollywood, protecting children who are just stepping into showbiz and the potential of Netflix.
He spoke openly about the enormous wage gap in Bollywood. A number of actresses have already come forward with the glaring gap in pay between men and women across industries. Shah Rukh said that he felt there was no point to shirking off the debate,  hoping that the pay would be equal for all actors, irrespective of their gender. However, he opines that an actor should never overestimate their own capabilities. He said that a film's expense should not be burdened by the cost charged by anyone, be it the actor or the director, maintaining that the amount demanded should not exceed that the earnings of a film in its opening weekend.
Shah Rukh has spoken about the issue earlier too. You can watch one of his interviews here.
Suhana Khan's recent Vogue cover has drawn a deluge of criticism on social media with the nepotism debate being on for a while now.
This is the cover.

And this is how most of social media reacted.
One of the few things that should not but exists…..#nepotism there are so many actors out there but celebrity kids are on the Vogue cover without even a single movie release just coz your father is a star – not acceptable👏👏👏👏 #Nepostism #Suhanakhan #vogue pic.twitter.com/40TQsgBKLV

— Shruti 🧚 (@shruttitandon) August 2, 2018
In an interview with the Economic Times, Shah Rukh Khan said that a parent can only be protector of their children and depend on their upbringing of the children when they enter the outside world and explore. The children are responsible to live with the education provided by the parents and figure it out.
In context of streaming platforms like Netflix, he said that people now have more options to watch a film as they want to, helping them exercise their own free will as per convenience. It is also an opportunity and a platform for young filmmakers who did not initially have a proper platform for their small films.
His candid revelations are a refreshing break from the hackneyed narratives that most of Bollywood tends to churn out if asked on sensitive issues.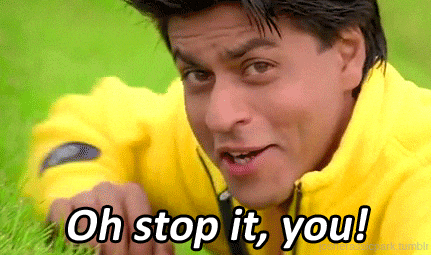 (Gif source: Giphy)
By Shaoni Sarkar