Former MP and BJP national vice-president Satya Pal Malik took oath as the Governor of Bihar on Wednesday. The post had fallen vacant in June after Ram Nath Kovind was nominated as candidate for President by the NDA government and subsequently resigned. West Bengal Governor Keshari Nath Tripathi has been holding additional charge of Bihar.
"I understand the responsibility given to me and will fulfil it wholeheartedly," Malik was quoted as saying by news agency ANI, following his appointment to the Patna Raj Bhavan.
Malik, 71, was a Lok Sabha MP from 1989-1990 and has also been elected to the Rajya Sabha for two terms. He was a MLA in the Uttar Pradesh Assembly between 1974 and 1977. He has also previously served as the MoS for Parliamentary Affairs, and Tourism. Through his political career, Malik has also served in several Parliamentary Committees.
Who is Satya Pal Malik, the new #Governor of #Bihar?#SatyaPalMalik #BiharGovernorhttps://t.co/25N4pW5Ejn MT @NewsX

— Avinash RanJan Jha (@Avinashrjha13) September 30, 2017
Malik completed his B.Sc and LLB from Meerut University. He holds a Diploma in Parliamentary Affairs from the Institute of Constitutional and Parliamentary Studies run by Parliament of India.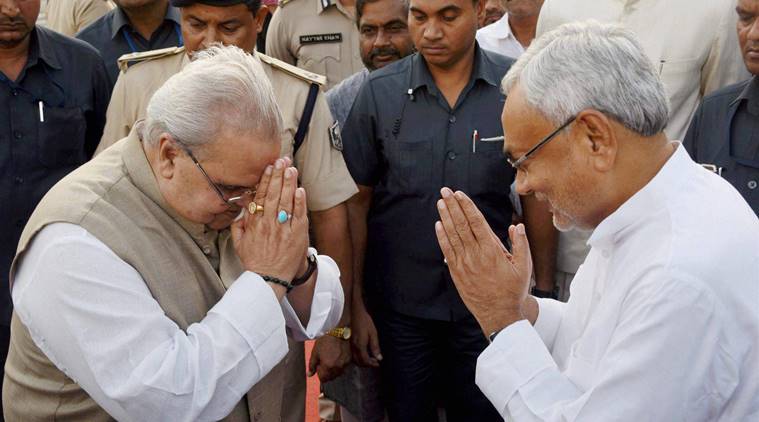 Bihar Chief Minister Nitish Kumar receiving the new state Governor Satyapal Malik at the Patna Airport on Tuesday. (PTI Photo)
Bihar Chief Minister Nitish Kumar had welcomed the appointment of Malik as Governor last week. He also expressed happiness at the appointment.
President Ram Nath Kovind on Saturday appointed 5 new Governors for the states of Arunachal Pradesh, Bihar, Tamil Nadu, Assam and Meghalaya. The President's Office had stated that the appointments will come into effect from the date on which the incumbents assume charge of their new posts.