The Prime Minister and the Defence Minister celebrate Diwali with the Indian Army troops 
Prime Minister Narendra Modi greeted and celebrated Diwali with the personnel of Army and Indo-Tibetan Border Police (ITBP) in Uttarakhand.
Modi flew to Harshil village on Wednesday morning in a special Indian Air Force plane and was accompanied by Army Chief Bipin Rawat.
Harshil is situated at the confluence of Jalandhari Gadh and Bhagirathi rivers and at the foot of the mountain that lies at the head of the Baspa Valley at the height of around 8,000 feet.
While interacting with Army and @ITBP_official Jawans in Harsil, spoke about the numerous steps being taken by the Government of India for the strengthening of the defence sector, welfare of ex-servicemen and highlighted how Indian forces are admired globally for the skills. pic.twitter.com/DFAuJfrQwy

— Narendra Modi (@narendramodi) November 7, 2018
"Diwali is the festival of lights which spreads the light of goodness and dispels fear. The jawans, through their commitment and discipline, are also helping to spread the sense of security and fearlessness among the people," Modi said.
The Prime Minister also recalled visiting soldiers on Diwali ever since he was the Chief Minister of Gujarat.
He also added that India is taking great strides forward in the defence sector and said that the Indian Armed Forces draw admiration and appreciation across the world in United Nations peacekeeping operations.
Later, the Prime Minister visited the Kedarnath shrine to offer his prayers.
बाबा केदारनाथ के दर्शन का सौभाग्य पाकर अभिभूत हूं।

मैंने महादेव से देश की निरंतर प्रगति और सभी देशवासियों के सुख, शांति और समृद्धि की कामना की है।

जय बाबा केदारनाथ ! pic.twitter.com/IlyPJ7pcsi

— Narendra Modi (@narendramodi) November 7, 2018
He will also review the reconstruction of the shrine, many parts of which were devastated in the 2013 floods.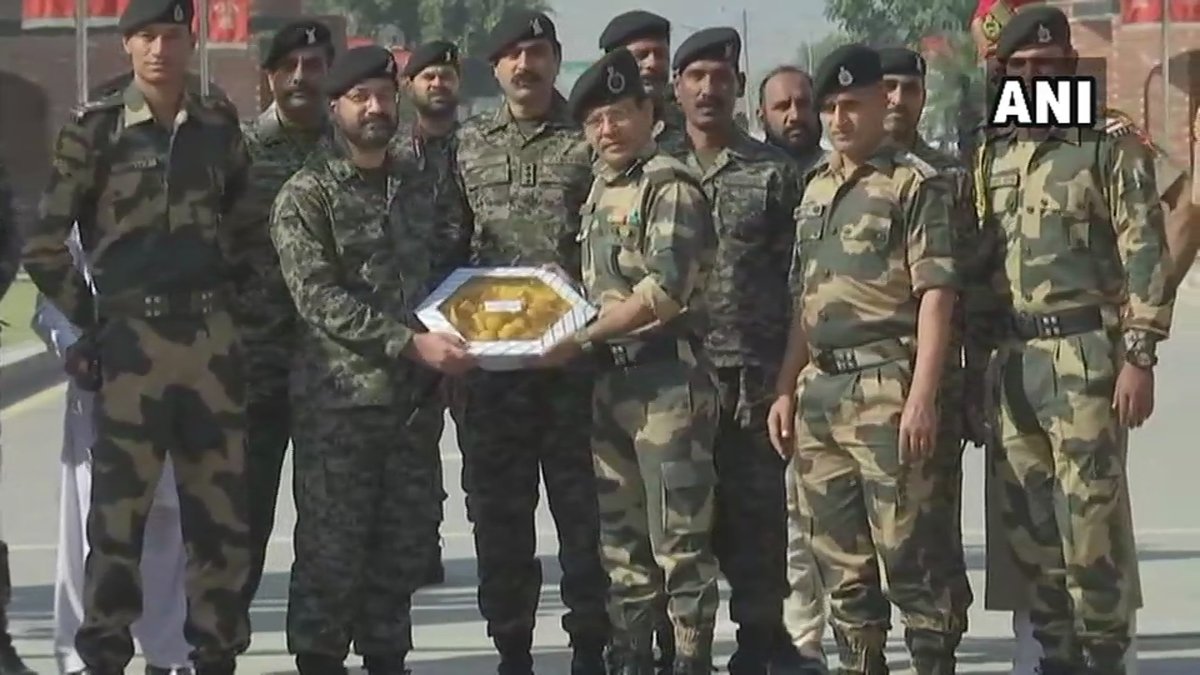 The Border Security Force and Pakistan Rangers also exchanged sweets at Attari-Wagah border today on the occasion of Diwali.
Happy Diwali to everyone!

Here's a glimpse of Smt @nsitharaman interacting with troops in Hyulong, Arunachal Pradesh

Jai Hind! pic.twitter.com/cezft3lDSP

— Raksha Mantri (@DefenceMinIndia) November 7, 2018
The Defence Minister, Nirmala Sitharaman, celebrated the festival with Army troops in Hyulong, Arunachal Pradesh.