Six policemen were killed and 50 others, including an SP, injured in a bloody clash along the Mizoram-Assam inter-state border on Monday. A 12-hour bandh was called in response, to protest the killing of six policemen. What exactly led to this act of violence between the state police of two neighbouring states?
Sequence of events on 26 July:
This was not an incidence of violence between civilians but a violent encounter between the police forces of the two states. Both sides have alleged encroachment of their land by the other. The current site of the clash is the border between Lailapur village in Assam's Cachar district and Vairengte in Mizoram's Kolasib district. This region had also witnessed clashes between civilians in October last year.
As for the July 26 incident, the Assam government has attributed Mizoram's construction of a road from Vairengte towards Rengti Basti in Assam as a cause for the violent response. This construction was supposedly destroying the forest near the Inner Line Reserve Forest in Lailapur area. A team of Assam officers had gone there to defuse the situation. Mizoram home minister Lalchamliana, in turn, claims that the Assam police entered Mizoram's territory and initiated violence.
History of conflicts in the region:
The history of strained relations between the two states can be traced back to 1972, since Mizoram became a Union Territory in, and then a state in the 1980s. The two states signed an agreement that status quo should be maintained at no-man's land set up in the boundaries.
While alleged transgressions have often happened over the decades, the number of skirmishes has hiked up in recent months. According to Mizo leaders, the only acceptable boundary is the Inner Line of 1875 on the southern frontier of Cachar, notified as per the BEFR Act. (This was subsequently revised in 1878 as it sought to demarcate the Lushai Hills frontier from the plains of Assam.)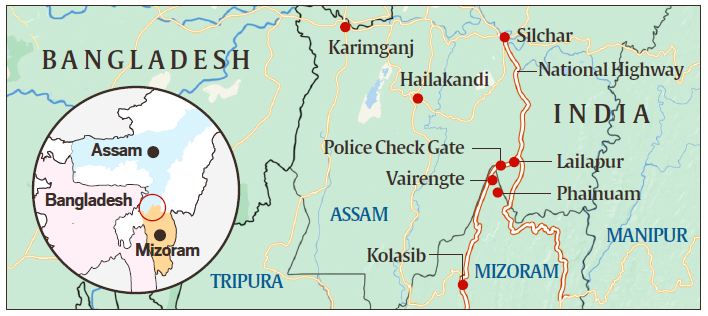 Government response:
An immediate twitter spat ensued between CMs of both the states as the news of the violence broke out. Hailakandi SP Ramandeep Kaur has been posted as the new Cachar police chief as incumbent Vaibhav Nimbalkar has been shifted to Mumbai for better treatment. Assam police has announced a reward of 5 lakh rupees for any information about individuals involved in the killings of the police personnel.
The central government has intervened in the issue and Assam and Mizoram are expected to withdraw their police forces as central paramilitary troops will be deployed in the four-km disputed stretch, which will function as a sort of no man's land, till a permanent solution is found, according to an interim agreement reached by both states during talks held in Delhi.