ShahRukh Khan, Yash Raj Films, and a male director. In the past this blockbuster combination has given bollywood some of its most sexist and successful films, like the one where Kajol had to grow hair and wear salwar suits to get SRK's attention, or the one where jobless SRK stalks Kajol across continents to get into her pants, or the one where #TeamDiva ShahRukh won't do the dance programme unless he gets Madhuri wearing Big Jhumkas and white suits (Fetish anyone?)
Come year 2008 and SRK is in a Yash raj film which doesn't have a traditional heroine half his age, or trees to dance around. Instead it's a film with strong women characters, less of mansplaining and a central plot which revolves around a game which no one gave fucks about. It's refreshing, it's gripping, it's got a cast of absolutely terrific characters and some rare, fascinating female-female dynamics that are usually reserved for relations between the sexes or just between men in Indian cinema. And yes, it is awesomely feminist — boldly, explicitly saying, girls should be able to go out and do stuff, and they can do all stuff as well as men.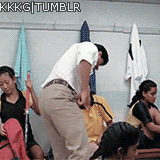 BUT. (Oh, the dreadful but)
The film both triumphs and suffers from the character of Kabir Khan. Triumphs because it surely helped the film's commercial appeal to have the biggest actor in Bollywood starring, and of course, who's to deny Shahrukh turned in a fine performance as the girls' coach. Suffers because it is clear that while these girls were all talented in their own right, they needed Kabir to pull them together as a team, lead them to victory. Even the very final save by the team captain Vidya was successfully pulled off thanks to the signal of Kabir.
And in the McDonalds fight scene But women taking on the worst behavior of men and/or male-established/dominated society is not what feminism about.
Having said that, it's really nitpicking, Chak De India! Proudly remains to be celebration of Feminism on an unexpectdly huge scale. One of the times Bollywood didn't screw it up much.
(Poster: Soham Sen)
Dibyayudh Das for TheNewsmakers