One member of Boko Haram sect, Mohammed Bashir, has been arrested by the Ondo State Police Command.
Bashir, who was arrested in Isua Akoko, the headquarters of the Akoko South-East Local Government Area of Ondo State, disclosed that members of the notorious sect were planning to launch an attack on the state.
The suspecte was paraded on Tuesday at the command's headquarters in Igbatoro, Akure.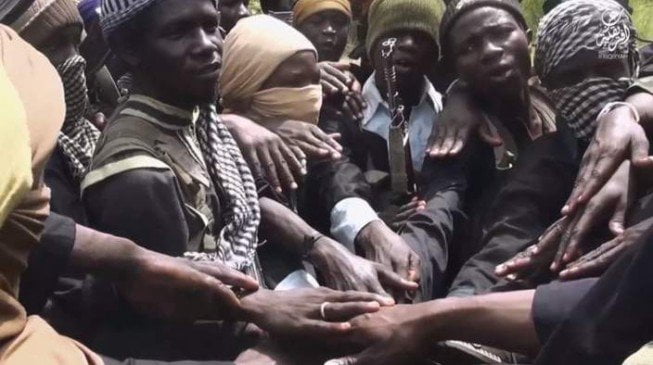 The state Commissioner of Police, Mr. Gbenga Adeyanju, during the parade stated that Bashir would soon be handed over to the Nigerian Army to take more investigation.
Speaking in Hausa language, the Boko Haram member told newsmen that other members were in Ondo state.
20-year-old Bashir disclosed that, "I am an officer in Boko Haram, I was arrested by the police when I wanted to go and eat. Other members of the gang and I have been meeting in the bush on how to carry out attacks on Ondo State. I left the meeting to go and eat when the police arrested me."
Speaking on how he became a member of the deadly group, Bashir said he was picked up in the bush by some top members of the sect while about to feed his donkey, some months ago. He included that since he became a member, he had takene active part in many of the attacks in Borno and Nasarawa states.
He  said, "Killing means nothing to us. I have once killed two people with gun. I killed one man and a boy; we just kill people at will. We kill people because we believe that those practising western education are evil doers and we must kill them."
The suspect noted that some influential people supplied them with weapons which they used to carry out their various attacks.
Speaking to newsmen, the police commissioner, promised inhabitants of the state that if other members of the group were still in the state, the police would arrest them.
Adeyanju enjoined residents to assist security operatives by disclosing information about criminals in their neighbourhood.
He said, "If they (Boko Haram members) remain in this state, we will get them; it is our work, we know how to get them."
Meanwhile,. the Nigerian Army is set to launch "Operation Crocodile Smile 2" in Ondo, Edo and Delta states to boost their proficiency in land and riverine operations.