Akhilesh Yadav is declared the National President of Samajwadi Party for a five-year term, on Thursday. Both Mr. Mulayam and Mr. Shivpal have been sidelined by Akhilesh ever since he snatched the crown of SP chief from his father at the party's national convention here on January 1.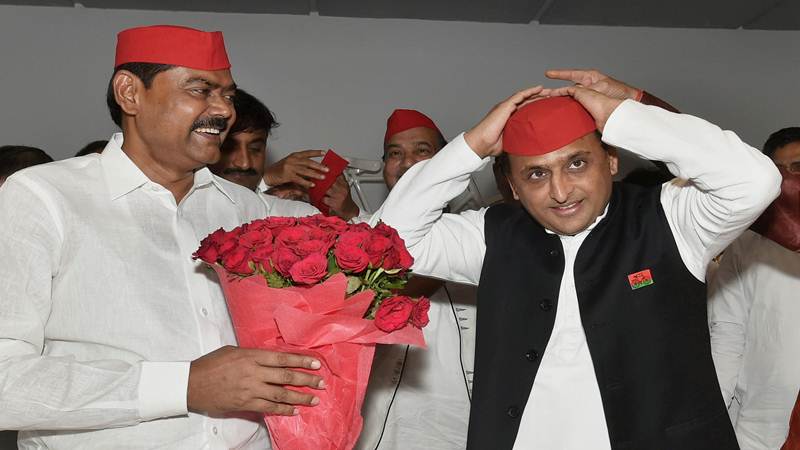 (Source: Free Press Journal)
His re-election was announced by senior SP leader Ram Gopal Yadav at the SP national convention here.
44 year old #AkhileshYadav re-elected as #SamajwadiParty's national chief pic.twitter.com/2ulnbqyvBe

— Doordarshan News (@DDNewsLive) October 5, 2017
Samajwadi Party national convention LIVE: Akhilesh Yadav re-elected party chief for 5 years, Mulayam skips meet https://t.co/gUz5zmWxV6 pic.twitter.com/Nj2kw8WU8n

— Hindustan Times (@htTweets) October 5, 2017
The party's constitution was amended to extend the tenure of the party chief to five years from the existing three years. Now that 44-year-old Mr. Akhilesh will remain at the helm for five years, the 2019 Lok Sabha and state Assembly elections in 2022 will be held under his presidentship. The state president's tenure has already been extended by a similar period by the state executive and Naresh Uttam was unanimously re-elected to the post for five years.
Taking full control of the party after being crowned as its head and alloted the 'bicycle' symbol by the EC on January 16, Mr. Akhilesh has been going full throttle.
The key Lok Sabha by-elections to be held in Gorakhpur and Phulpur (the seats vacated by Chief Minister Yogi Adityanath and his deputy Keshav Prasad Maurya) will give the SP a chance to gauge which way the wind is blowing months after it faced a rout in the Assembly polls
(Saumya Dixit)
(Source: The Hindu)